Conveyancing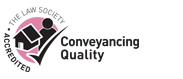 The firm is accredited with the Law Society's Conveyancing Quality Scheme.
We undertake domestic conveyancing on freehold and leasehold properties, as well as remortgaging. We understand that moving can be a stressful time and we will do our best to make the process as smooth as possible.
Our conveyancing team have, between them, vast experience of buying and selling residential properties.
Peter Harrison, our conveyancing manager, has worked in the industry for 46 years.
Tony Crosby who qualified as a solicitor in 1995, has retired as a Director of the firm, but works one day a week within the firm dealing with conveyancing transactions.
The team of Karen Purvis, Rhonda Colver and Diane Stuart have collectively worked at Yarwood Stimpson for over 45 years.
To help demystify the process we give an explanation of the conveyancing process.
How much will it cost?
If you are planning on moving house or buying a home for the first time, why not get a free, instant, no obligation quote?